Get Fresh: A Bountiful Guide to San Francisco Farmers' Markets
"Summer" has arrived in San Francisco. And even if the city's weather doesn't show it, it means post-rain high-produce season at our warmer NorCal farms.
What is hot here is our fervor for ambling around the overflowing stalls at the local farmers' markets, stocked with fresh, local, sustainable, insert-latest-buzzword bounty. And after all this rain, the markets are absolutely brimming with the plumpest and juiciest strawberries, peaches, asparagus, blueberries, and avocados as far as the eye can see. So skip the grocery store and use our guide to find the market nearest you. You'll be supporting local ag and saving money all while chomping on the most mesmerizing produce of the season.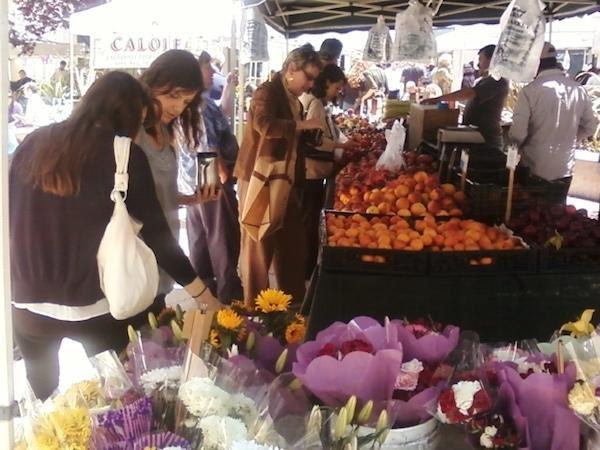 50 Fremont Farmers' Market
FiDi might be the last place you'd expect to see stalls overflowing with beefy heads of lettuce, golden waves of peaches, and fragrant spring onions, but the 50 Fremont Farmers' Market is the real deal, with certified-organic vendors peddling peace of mind and some damn tasty food. Not only will the produce seize your senses, but the market offers tons of other delicious food options like hummus, vegan granola, pastries, sauces, and olives. Oh, and while you're here, you may as well pick up some gorgeous flowers for your boo. // Mondays 11am to 3pm; 50 Fremont St. (FiDi), 50fremontplazafm.weebly.com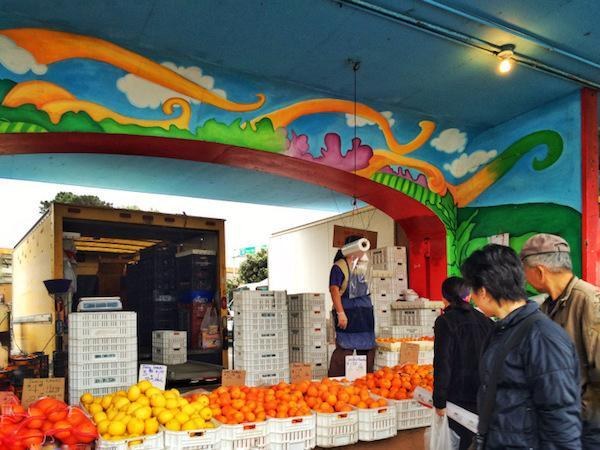 Alemany Farmers' Market
The Alemany Farmers' Market was the very first farmers' market in all of California, and it remains the only city-run market in San Francisco. Often referred to as the "people's market" for its affordability and as the "grandaddy" of farmer's markets for its history, Alemany—long a leader in the movement for the availability of sustainable and affordable produce—is a perfect place to explore the fruits of our small farms' labor. //Saturdays from dawn to dusk; 100 Alemany Blvd. (Bernal Heights), sfgov.org.
(Photo courtesy of Caleb in the City)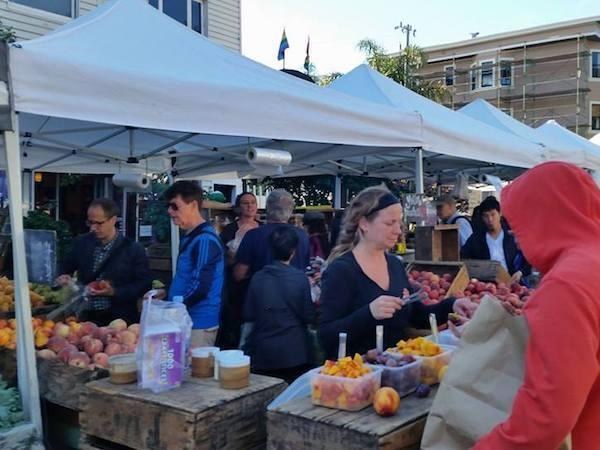 Castro Farmers' Market
The Castro market's evening time slot makes it the perfect place to get inspired for tonight's dinner or tomorrow's breakfast. Amble through the ample stalls and wait for California-grown ingredients to catch your eye—perhaps some asparagus (particularly brawny this season) to roast with fresh lemon, or plump, crimson cherries for a clafoutis. Twenty vendors bring produce, meat, fish, mushrooms, soap, baked goods, and even fancy cheese. // Wednesdays 4-8pm; 288 Noe St. (Castro), pcfma.org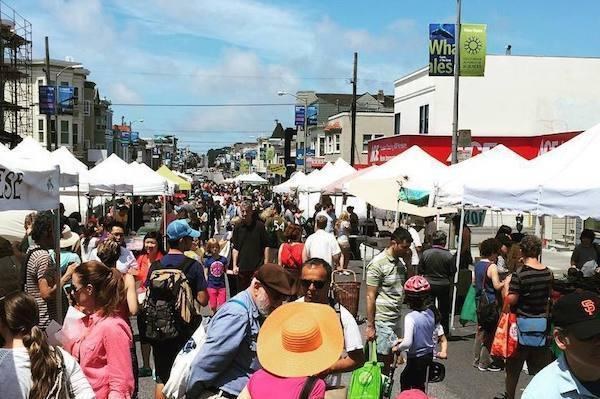 Clement Street Farmers' Market
The Clement Street Farmers' Market is run by the Agricultural Institute of Marin, which means it's sure to be fresh and fancy. And with more than 50 vendors (golly!), they'll have everything you could possibly dream of: honey, bread, locally grown organic produce, local seafood, grass-fed meats, nuts, hot food, fresh-cut flowers, and much more. This market spans two long blocks and is always buzzing with activity. // Sundays 9am to 2pm; Clement St. at 3rd Ave. (Inner Richmond), agriculturalinstitute.org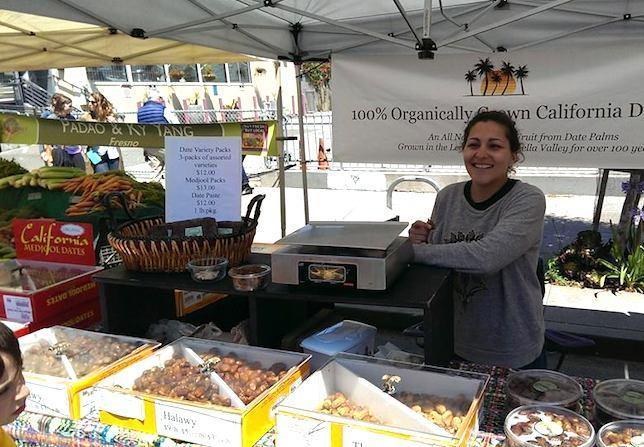 Divisadero Farmers' Market
The Divis market is small and community-minded, with options for classics such as berries, stone-fruit, and vegetables, as well as eggs, seafood, and cheese. Visit Achadinha Cheese for fresh, unique goat cheeses and consider whipping up some roasted summer carrots and early-season apricots with California honey and earthy goat cheese crumbled over the top. Summer never tasted so good. // Sundays 10am to 2pm; 700 Divisadero St. (NoPa), pcfma.org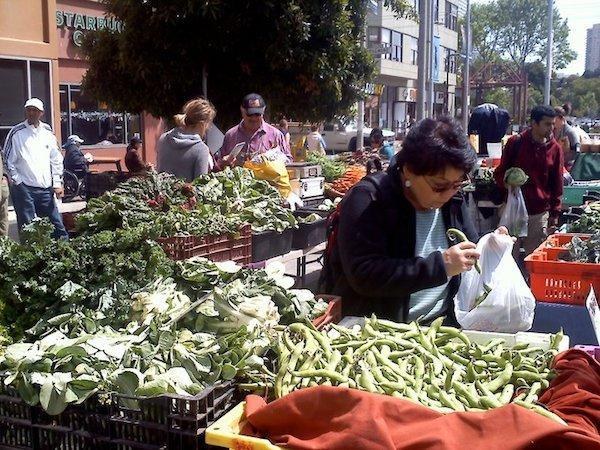 Fillmore Farmers' Market
The Fillmore market fills out with about 15 vendors who provide the essentials (berries, nuts, veg), but also sneak in a few surprises—think smoked salmon from Coastside Farms and Specialties and baked goods from Crepe and Brioche. If you're really trying to impress your sweet, or just need to liven up your kitchen, wake up bright and early for a stab at the most beautiful flowers from Fernandes Flower Growers. //Saturdays 9am to 1pm; 1730 O'Farrell St. (NoPa), pcfma.org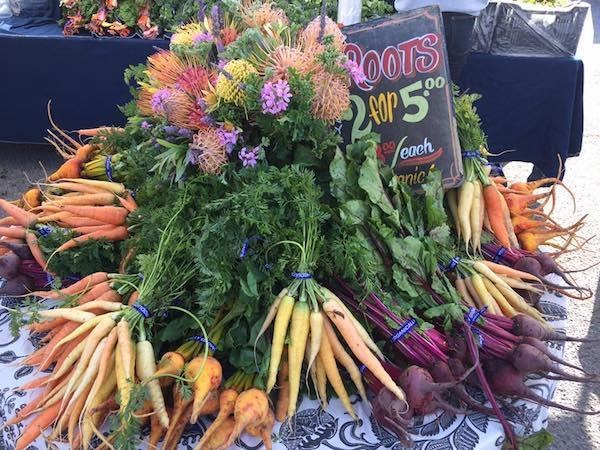 Fort Mason Center Farmers' Market
Hosted by the Golden Gate National Park Service and situated right on the water, the Fort Mason market has so much to offer. With more than 35 vendors, you can buy for just about any occasion, be it a special dinner or your weekly shop. The market is made all the more magical with a stroll along the water. Be sure to check out their website for seasonal recipes and farmer spotlights. // Sundays 9:30am to 1:30pm; Fort Mason Center (Marina), cafarmersmkts.com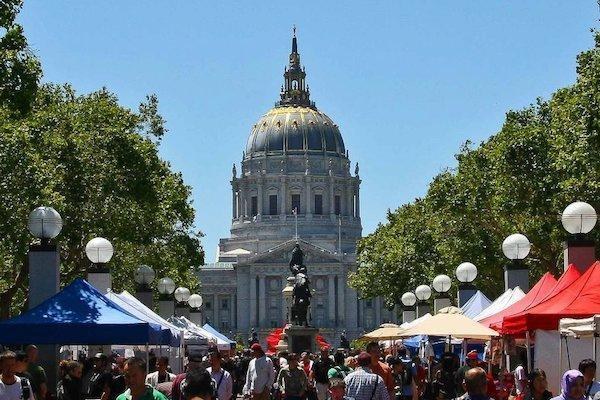 Heart of the City Farmers' Market
Operated by the farmers who participate, this is the only independent nonprofit market in town. Heart of the City aims to bring healthy, affordable food to a food desert in SF, while supporting small, local, sustainable farming practices. This huge market sets up in UN Plaza every Wednesday and Sunday for 10 whole hours—for the best selection of produce, get there before 3pm; for the cheapest prices, go later in the day. With 29 vendors, including purveyors of specialty Asian produce, you won't have a problem finding what you need. // Wednesdays 7am to 5:30pm and Sundays 7am to 5pm; United Nations Plaza (Civic Center), heartofthecity-farmersmar.squarespace.com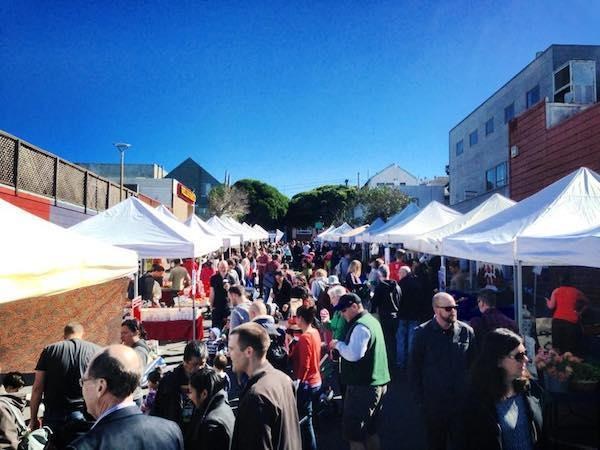 Inner Sunset Farmers' Market
This community market has fewer than 20 vendors, but you'll still find local folks doing their weekly shop here for the best California produce around. Grab some pasture-raised eggs from Shelly's Farm Fresh for a breakfast hash, and stock up on as much hummus as your heart desires at Hummus Heaven. // Sundays 9am to 1pm; 1310 9th Ave. (Inner Sunset), pcfma.org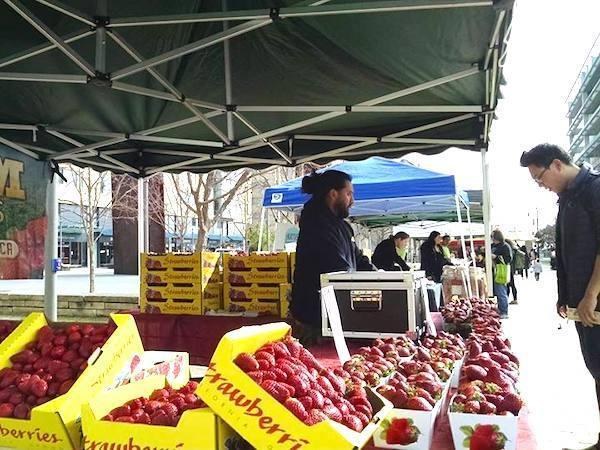 UCSF Farmers' Markets at Mission Bay and Parnassus
These small-scale markets organized by UCSF are mostly frequented by students, faculty, and hospital staff. But if you're in the area and looking for a quick, healthy lunch or snack, they carry all California-grown produce needed to please your palate. The setup may be small, but the flavors are big. // Wednesdays 10am to 2pm at 550 Gene Friend Way (Mission Bay); and Wednesdays 10am to 3pm at 505 Parnassus, in the elevator G breezeway, campuslifeservices.ucsf.edu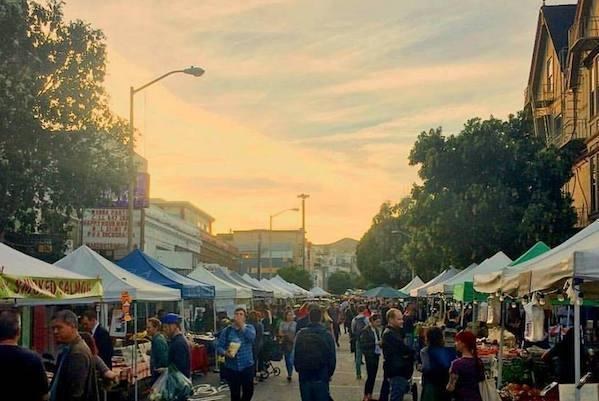 Mission Community Market
This is much more than a farmers' market. There are stalls for local businesses, music, and culture, as well as after-school programming for kids. Head over on Thursdays to support the small businesses of the Mission and engage in a community effort against economic insecurity and hunger. With 16 vendors, street food, local music, and art, you won't want to miss this veritable street fair. // Thursdays 4-8pm; 84 Bartlett St. (Mission), missioncommunitymarket.org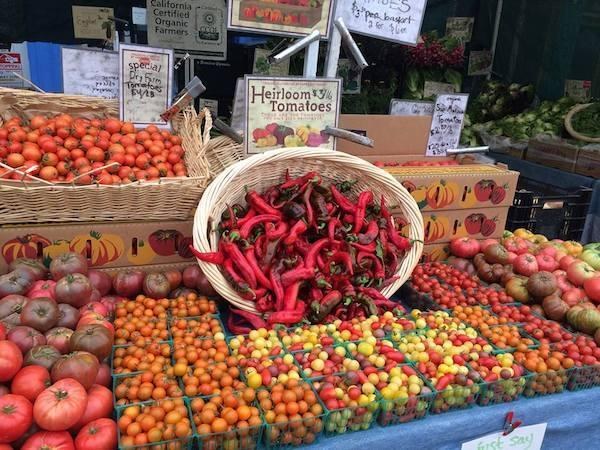 Noe Valley Farmers' Market
This neighborhood farmers' market has been operating since 2003, providing fresh produce, honey, meat (including California's oldest operating butchers, Drewes Meats), bread, oil, vinegar, dried fruits, and nuts from local, small farms. With nine produce vendors and six food vendors, Noe Valley Farmers' Market is a small-scale operation making a big community impact. Check out the scene every Saturday to support their mission to provide healthy, sustainable food—and for live music, of course. // Saturdays 8am to 1pm; 3861 24th St. (Noe Valley), noevalleyfarmersmarket.com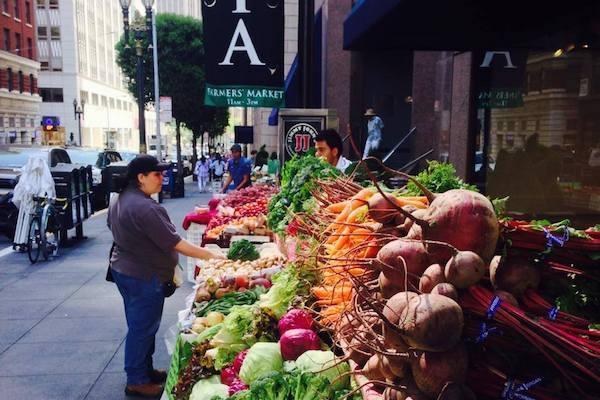 San Francisco Farmers' Market at Crocker Galleria
This tiny, cramped market is packed with flavor—swing by on your lunch break for produce and specialty, gourmet foods perfect for a quick, delicious meal downtown. The market also offers heirloom varieties of many fruits and vegetables, as well as plenty of berries and summer produce, perfect for an afternoon pick-me-up at work. Much better than paying big bucks for a mediocre sandwich. // Thursdays 10am to 2pm; Crocker Galleria, 50 Post St. (FiDi), cafarmersmkts.com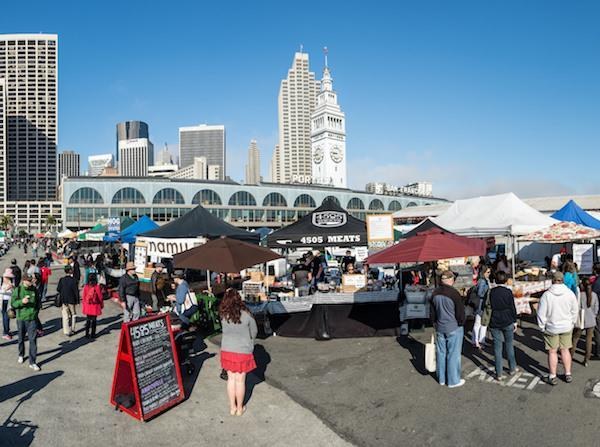 Ferry Plaza Farmers' Market
Ah, the Ferry Plaza—epitome of class and style. Hit up Swanton Berry Farms for a punnet of the most exuberantly pure strawberriest-tasting strawberries you've ever popped into your mouth. Afterwards, slowly stroll past RoliRoti and find yourself swimming in saliva as the fat drips off those spinning chickens onto potatoes and Brussels sprouts. When you're done rooting through the countless stalls, meander into the Ferry Building itself and taste every kind of olive oil on offer at Stonehouse California Olive Oil. Whether you're a chef piling produce onto a cart or just a now-very-happy person biting into a fresh, juicy peach, this market will blow your mind no matter how many times you've seen it. // Tuesdays and Thursdays 10am to 2pm, Saturdays 8am to 2pm; Ferry Building Marketplace (Embarcadero), cuesa.org
(Image: Gary Yost)