No Side Table? No Problem—Try These 10 Surprising Alternatives
Your parents' matching brown side tables are fine (and free), but if you want something a little more interesting to grace the ends of your sofas and chairs and hold your lamps and cocktails, you're in luck!
Side tables are often an afterthought, but they don't have to be. Interior experts and organizing professionals love to scour flea markets, yard sales, and other off-the-beaten-path places to find unusual side table stand-ins. They're even better if they do double duty as seating, storage, or other purposes. Here are some fresh side table ideas to ponder if you want to add an element of surprise to this oft-overlooked piece of furniture.
1. Have bags, will travel
Vintage luggage gets a second look as an end table.
Jeanine Boiko, a real estate agent in Wantaugh, NY, and blogger at Okio B Designs, finds hers at garage sales and thrift stores.
"Depending on your style, you can either spray-paint them (I like white) or leave them as is," she notes. A steamer trunk or military footlocker plays the same role, offering a flat surface, plus storage space inside.
2. Art books, artfully arranged
A big pile of tomes seems organic and hip, but it's not for every home, say the pros.
"I see people stacking books as end tables a lot, but it really only works in quirky spaces, like a library," notes Drew Henry, founder of Design Dudes.
The key to making it successful elsewhere? Use a tray that's sized to fit on top so it looks like a table and not a random mess. And if you're going the book route, be sure to remove your favorites from the pile (coffee rings and other drips are inevitable).
3. Hat attack
Floral hat boxes in graduated sizes work well in a guest bedroom or sitting room (the trio above is from Wayfair, $48).
Love the high-gloss lacquer trend? It's showing up on walls and has long been on furniture, but you can grab a miniature version by using a set of colorful lacquer boxes as a side table, too.
4. Just crate it
Wooden crates, whether for fruit or more nautical-looking lobster traps, are also in this category, but using them as end tables is a slippery slope into dorm room decor, warns Henry.
"There are ways to make a crate look stylish, such as painting it or white-washing, and then I could see it in a farmhouse setting or shabby chic-styled room," he offers.
5. Natural finds
Channel the popular organic modern style with rough-hewn tree trunks (AllModern, $249) and other natural materials for end tables, including sculptural pieces carved from dark walnut or a geometric cube made from brushed metal. With this type of side table, you'll provide a place for books plus a dose of art in the room.
6. Bring garden style inside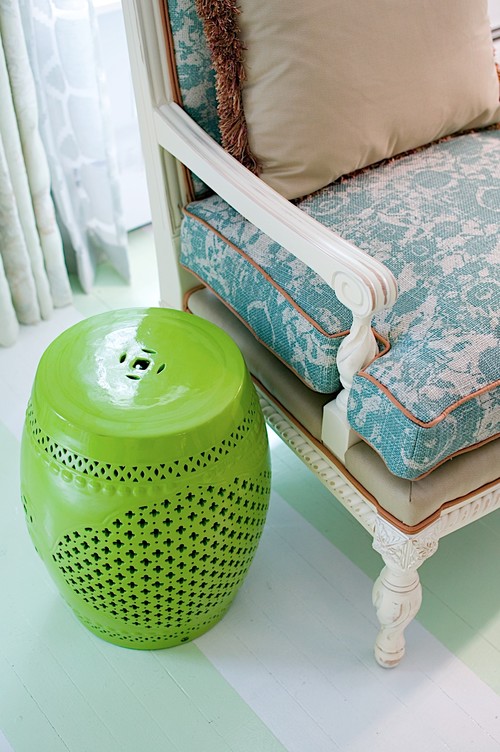 A garden stool from your local garden store doesn't just work in the great outdoors. It's also the right height to serve as a side table for most chairs and couches—and the sheen adds some happiness to your decor. This underrated piece is extremely versatile as a pop of color; its best use may be as a side table in a sun porch or living room (Amazon, $162).
7. Punchy pouf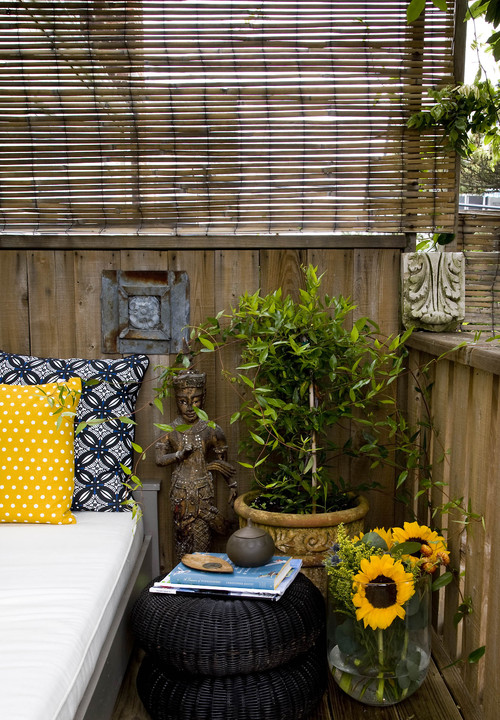 If you're not using your Moroccan pouf as extra seating, it can make an ideal little bedside table (Joss & Main, $68). Similarly sized square hassocks can also flank a bed, or move an ottoman to the end of your couch and top it with a tray. If more perch space is needed, remove the items and slide it around.
8. Serve up a bar cart
Sure, you see bar carts all the time on Pinterest, but who really uses one on the regular? Instead, wheel yours over to a wingback chair and remove some of the bottles and glassware. Voila—the perfect side table in your living room (West Elm, $320).
9. A simple folding chair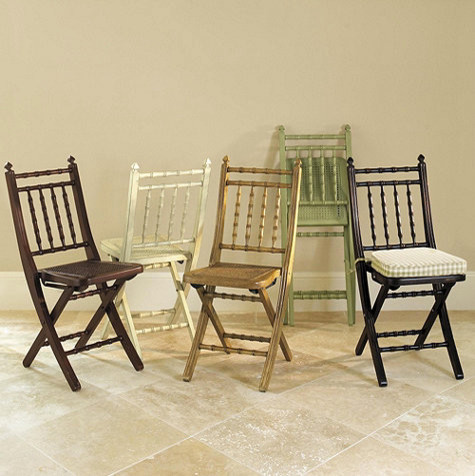 Shop outdoor folding chairs on Houzz
When it comes to utility, you can't beat a plain ol' wooden chair. You probably have an extra pair in the garage or closet, or you can find a mismatched set at tag or barn sales. Drape the back with a soft throw and top it with a small round tray—then you're good to go.
10. Animal magnetism
A rowdy pup with energy to burn may not be the best candidate for a dog crate-as-end table (Amazon, $132).
"I'd worry about items falling on him or the animal shaking it and knocking things off," says Henry. But a mature dog is fine in this setup and he'll love being part of the scene.