S.F.'s knockout garden takes root atop Transbay Transit Center
We've been hearing rumors for the past several years that trees were being planted atop the new San Francisco transit center: palms, gingkos, oaks, even redwoods. Now that the park is open, we can see them for ourselves. There are trees there all right, some of them quite large. In his new book, "Designing With Palms" (see review below), palm expert Jason Dewees describes the palms planted there: tall hybrid Washingtonias, Norfolk Island palms (Ropalostylus baueri), curly palms (Howea belmoreana), Clara palms (Brahea clara), feather-leafed pindo palms (Butia odorata) and spectacular specimens of Chilean wine palm (Jubea chilensis).
Dewees points out that the shallow, fibrous roots of palms make them a good choice for roof gardens. In addition, from the tall buildings above this park, they will look like giant green flowers.
The park is 5.4 acres — 1,400 feet long by half a block wide — and a wonder to horticulturists. The plantings and signage by PWP Landscape Architecture represent all of the Mediterranean climates as well as cloud forests. There are also succulent plantings and a wetland area that is watered using graywater.
I visited the park in mid-August, the day after its opening to the public. People were using it with relish, viewing the plants; having snacks and chatting on the patio; watching their children climb a rope structure in the play area; or just lounging in the sun on the lawn. A revelation to me were the red, yellow and blue chairs that have been left about for people to carry where they want to sit. And carry they did. Some wanted to sit alone, others in groups; some chose a sunny spot, others, shade.
The park is on the fourth level of the transit center, 70 feet above street level. It lists its address as 425 Mission St., and the entrance on Mission at Fremont streets is considered the "main entrance" as it is the entrance to the grand hall with direct access to the bus deck and park. However, there are several other entrances (not all open now), and I entered on Minna Street (near First). The park is open 6 a.m. to 9 p.m. daily.
Book Review
"Designing With Palms"
In his book "Designing With Palms" (with photography by Caitlin Atkinson, Timber Press), Jason Dewees, a palm expert with Flora Grubb Gardens in San Francisco and with wholesaler East West Trees in Fallbrook (San Diego County), asks: "What child in school cannot draw a palm tree?" But he has observed that few artists' renditions of palms — even paintings by artists seemingly intent on achieving landscape realism — capture the actual character of palm species, let alone individual plants. "Artists … are gobsmacked by the singularity of the palm form," he writes.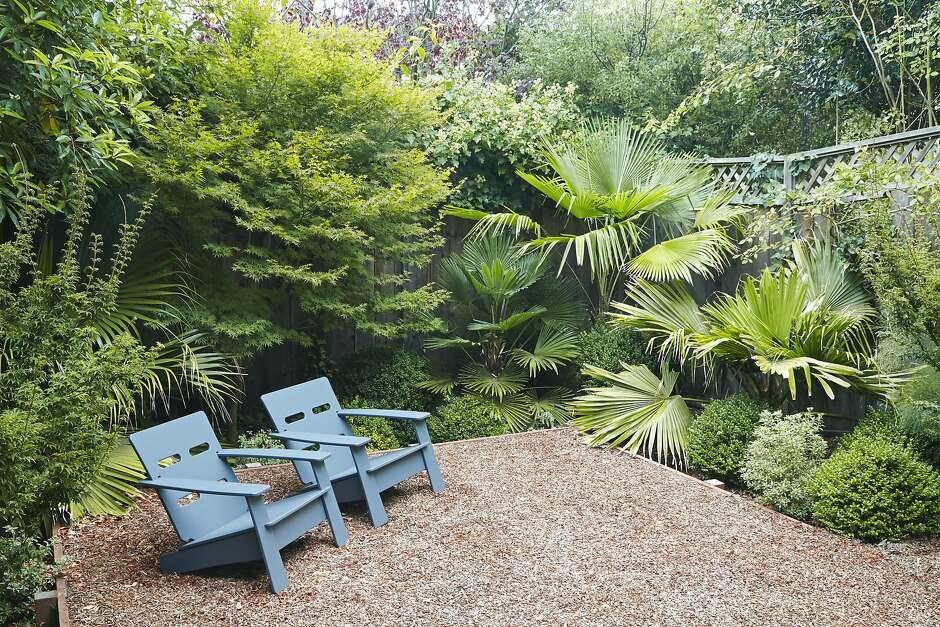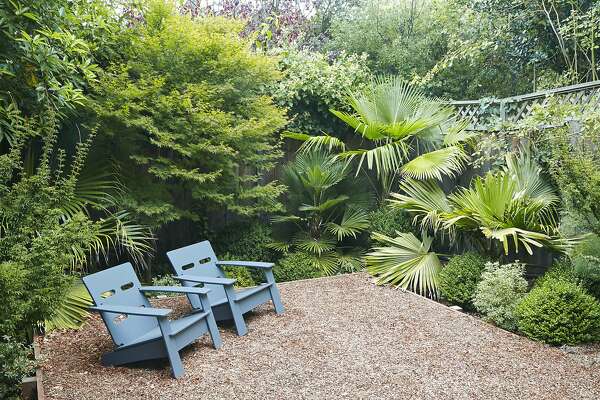 While their basic form is indeed dramatic and easy to represent, from this book we learn that palms actually vary widely in form and habit. They are shrubby or tall and have various configurations of leaflets. Some are hardy to well below freezing, others are damaged by the slightest frost, some are drought tolerant while others thrive on constant moisture. Some thrive in shade and there are even climbing palms. This book will increase your appreciation of palms and help you select and care for them. Furthermore, the many photographs will give you plenty of inspiration for using palms in your garden.
Dewees has loved them since, as a child, he visited grandparents who lived in Florida, and longed for more palms in the Bay Area. When I first moved to San Francisco, I was charmed by the Canary Island palms (Phoenix canariensis) in the Dolores Street median, though I was aware that many thought palms inappropriate for San Francisco. I soon learned that this palm, native to the Canary Islands (on the northwest coast of Africa), thrives in Oregon and Ireland, changing my tropical image of palms, and adding to the conviction I share with Dewees that palms are just fine here.
However, from Dewees' book I learned that because of the threat of fatal infection by fusarium wilt, it is best to plant an alternative to the Canary Island palm. Chilean wine palm (Jubea chilensis) is a stunning choice, if you can find one, or pasopaya palm (Parajubaea torallyi var. torallyi) if you cannot.
I also learned why it's unwise to prune green leaves from a palm. The tree will then lack energy to grow a thick trunk, so will be more prone to breakage. And I learned that many palm species shed old leaves, so don't need pruning.
The book features photographs and descriptions of a number of private and public gardens in the palm-growing states in the U.S., including, in the Bay Area. There are significant public plantings in the Gardens at Lake Merritt in Oakland; the San Francisco Botanical Garden (some were planted here by Dewees); the Ruth Bancroft Garden & Nursery in Walnut Creek; and the rooftop park of the new San Francisco Transbay Transit Center (see accompanying article).